Inspirational Easter Messages>>>>> Easter Sunday marks the day on the Christian calendar that Jesus rose from the dead, three days after He was crucified on Good Friday. Churches filled with Easter lilies celebrate the triumph of eternal life over death.
At home, Easter baskets full of candy and colored eggs bring merriment to children. The president of the U.S. hosts an Easter egg hunt on the White House lawn every year.
Easter is a joyous time to let your family and friends know how much they mean to you. Don't know what to say? Use our list of Easter greetings to find the perfect way to express yourself.
RECOMMENDED FOR YOU>>>>>
50+ Christmas Wishes for Boss 2020
30 Special Christmas Wishes for Teachers from Parents (Original)
Funny Christmas Wishes, Messages & Text
Inspirational Easter Messages
Happy Easter, Sweetheart! Wish you a very happy Easter and hope that you have a basket overflowed with blessings and goodies!
Sending you an Easter blessing. May the resurrection day of Jesus brings a miracle to your life and fill it with His love and blessings for eternity.
Wishing you a joyful Easter holiday celebration. May the deep meaning of this holy occasion constantly remind you that God is always with us!
Sending you heartiest wishes on this auspicious day. May God allow you a new beginning with great prosperity happiness and success! Happy Easter.
Inspirational Easter Quotes
Easter is a time when God turned the inevitability of death into the invincibility of life. – Craig D. Lounsbrough
It is the resurrection that makes Good Friday good. – Ravi Zacharias
"If you believe in the Easter Bunny, it means you believe in a fat, purple bunny, which is pooping multi-color eggs in your garden." – Alex Antunes
"Happy Easter everyone! Jesus dies, comes back from the dead — and we get chocolate eggs. It's like turn-down service from God." – Dennis Leary
"Easter is so disappointing. You suffer all the way through lent, and what do you get for it? A ham." – Garrison Keillor
"Passover and Easter are the only Jewish and Christian holidays that move in sync, like the ice skating pairs we saw during the winter Olympics." – Marvin Olasky
Let the resurrection joy lift us from loneliness and weakness and despair to strength and beauty and happiness. – Floyd W. Tomkins
Our Lord has written the promise of the resurrection, not in books alone but in every leaf in springtime. – Martin Luther
To holy people the very name of Jesus is a name to feed upon, a name to transport. His name can raise the dead and transfigure and beautify the living. -John Henry Newman
When Good Friday comes, these are the moments in life when we feel there's no hope. But then, Easter comes. – Coretta Scott King
Jesus said to her, 'I am the resurrection and the life. He who believes in me will live, even though he dies; and whoever lives and believes in me will never die. – John 11:25-26
The resurrection gives my life meaning and direction and the opportunity to start over no matter what my circumstances. – Robert Flatt
Inspirational Easter Messages for Friends
Hope this Easter brings a flood of cash and beautiful trips in our life and make your life better than ever. Something good may hatch from the eggs this Easter!
May true happiness be painted in your heart with the colors of springtime. I hope the Easter greets you with joy and prosperity. Happy Easter!
Do not let the Easter bunny fool you, he knows his drills. Sending warm wishes to you and your dear ones. Happy Easter.
Many happy Easter, pal! May God shower you with all the excellent blessings of the world!
Happy Easter, my dear friend! With a wonderful friend like you, every day is a beautiful beginning.
Funny Inspirational Easter Messages
You know Easter brings upon us the moment to spend more time with family, friends and loved ones. Who are you spending your Easter with? Me of course!!
Remember, Easter is the best time to get all the beautiful wives and handsome husbands in church. have a pleasant Easter
Easter brings all family together, even the prodigal children all come home to celebrate the resurrection of Christ. Are you a prodigal son? happy Easter
Stand tall and raise your voice high into the sky. It is Easter yet again. Happy Celebrations
Remember Easter is time to make the love go round with family and friends, share all the love that you've got. Maybe a box of chicken as well. Happy Easter
Remember to dress well and let your face be excited today! Jesus Christ was happy on resurrection. So get on with it! Happy Celebrations
Where is your location? Remember no drinking or getting drunk because I know you are well…..LOL! Happy Celebrations today. May God be with you
This is the time to be happy and be glad, and rejoice that God has given us the gift of life through resurrection of Christ, or will you resurrect for me? Happy Easter!!
May plenty cash come your way this month and forever. Happy Celebrations
Behave yourself because Jesus behaved himself by listening to the almighty and recreating death and life so we could all be saved. Happy Celebrations
Inspirational Easter Messages for Family
May the company of your loved ones, the success is borne out of your effort, and the favors of God give you a joyful Easter. May this holy season be a witness to your blessings, prosperity, and happiness. Happy Easter.
Love, peace, and contentment and many more are my wishes for you. As this Easter welcomes you to a new beginning of appreciation, may it fill your heart with new hope. May you be blessed with everything bright and cheerful. Happy Easter.
May the Easter bunny hop into your life with all the happiness in the works. I hope you get an Easter basket filled with joy, love, and peace. Many wishes of Easter to you and your family.
Easter gives us the message that no matter how much you try you can never put the truth in the grace, so never abandon hope but rather pray your beliefs to get stronger this Easter. Happy Easter.
The sunny days are here, May God Almighty gift you the best of both worlds and may this Easter be the most comfortable ever for you. I wish you a thrilled Easter.
My heart has unexplainable merriment as I see the blooming flower, the brightness of the sun, the singing birds, the white of nature celebrate the rising of our king. Have a beautiful Easter.
Because our God is a living God, we have a living hope. Here's to love, joy and peace. May you enjoy the best of God this Easter.
Easter spells out beauty, the rare vision of new life, let the hills and valleys break forth in singing Christ the Lord is rising today. We are the Easter people, Happy Easter.
A meaningful and mist joyous Easter holiday full of God's blessings is my wish for you today and as you celebrate may heaven join in you celebrating the sacrifice Jesus made for us all.
Best Inspirational Easter Messages
Jesus laid down his life, took the suffering just for our sakes. He suffered for our sins to wash away. What better sacrifice could compare to this? So let us praise him and thank the Lord for his blessings. Have a blessed and wonderful Easter.
12. Because he lives, we have a reason to live. You owe your life to God. Live responsibly. Have a wonderful Easter and be the best you can be.
13. The cross is the symbol of sacrifice to live. The Lord died for us out of love, but today he had risen. Let us rejoice for he is alive. Happy Easter.14. Easter symbolizes the new beginning of natural spring and brand new blessing, life, happiness, and joy. Easter has no end because we will keep celebrating our Lord Jesus. Happy Easter.
15. The resurrection of our Lord Jesus Christ has given our life meaning and direction. Here is the opportunity to start over no matter the situations. I wish you and your family a happy Easter.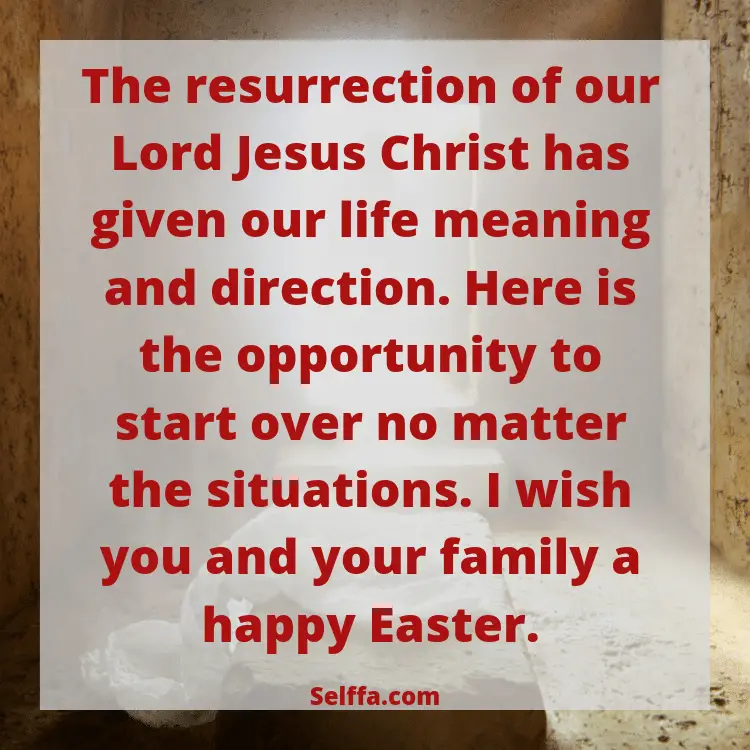 16. Jesus Christ promises never to leave our side and to live us forever. Let us place our hope and trust in him because we are save in him. Have a joyous Easter.
17. In every simple patch of green beneath our feet, in every blooming flower, in every beam of bright sunlight, the spirit of the risen Christ is celebrated. Easter blessings.
18. Easter brings us hope and lingers in our hearts forever. I know you feel blessed because a new life is given to you today. I want you to have a heartfelt Easter.
19. The love of Christ for us made him laid down his life for us to spend eternity. It is the greatest love in the world. I wish you a merry Easter.
20. Jesus came back to earth to ease our fear. That's the promise of Easter. Therefore let's celebrate his resurrection with complete cheer. Have a Happy Easter.21. Whenever you are in doubt to find the road ahead full of thorns, look upwards towards heaven. Faith is all that makes the Easter spirit. Add belief to everything you do and have a happy Easter.
Best Inspirational Easter Quotes
We live and die; Christ died and lived!
~ John Stott
Do not abandon yourselves to despair: We are the Easter people, and Hallelujah is our song.
~ Pope John Paul II
Christ has not only spoken to us by his life, but has also spoken for us by his death.
~ Soren Kierkegaard
If Christ has not been raised, our preaching is useless and so is your faith.
~ 1 Corinthians 15:14
Jesus did not die on the cross just so we could live comfortable, well-adjusted lives. His purpose is far deeper: He wants to make us like himself before he takes us to heaven. This is our greatest privilege, our immediate responsibility and our ultimate destiny.
~ Rick Warren
Our old history ends with the cross; our new history begins with the resurrection.
~ Watchman Nee
Easter is always the answer to "My God, my God, why hast thou forsaken me!"
~ Madeleine L'Engle
We must not forget that it wasn't the Jews that put him on the cross, and it wasn't the Romans. It was my sins, it was your sins, the sins of this world.
~ Franklin Graham
A dead Christ I must do everything for; a living Christ does everything for me.
~ Andrew Murray
Let every man and woman count himself immortal. Let him catch the revelation of Jesus in his resurrection. Let him say not merely, "Christ is risen," but, "I shall rise."
~ Phillips Brooks
Special Inspirational Easter Messages
Most people who encountered the power of Jesus never remained the same. This season as you celebrate the death and resurrection of Jesus let His saving grace be your portion, Amen
Easter is another time that the evil one wishes to block out of peoples mind. Majorly because over 2000 years ago Christ overcame the power of sins over mankind. With faith in Jesus, Christians are now more than conqueror and nothing sets Satan in panic more than this
There is nothing impossible with our Lord; he is the creator of everything in this world. Ask and wait patiently for his timing is the best. He will answer your prayers.
This is the day the Lord has made, rejoice and give thanks to our God for all He has done in our lives. He will never let us suffer is we earnestly believe in Him.
Hope you are enjoying the Easter Weekend! Look at what the Lords has done for you. It was not because of your capability
Happy Easter to you, I know the past one year has been a long one and challenging. May the Lord shower you with his blessing and may every darkness against you be broken in the name of Jesus.
He died for us; he gave us hope a second chance to live forever. Praise the Lord and give thanks for the great things He has done in your life.
Special Inspirational Easter Quotes
"The Earth laughs in flowers."- Ralph Waldo Emerson
14. "Easter is the demonstration of God that life is essentially spiritual and timeless." – Charles M. Crowe
15. "The great gift of Easter is hope."- Basil Hume
Related: 100 Cute Easter Instagram Captions
16. "Faith makes all things possible. Love makes all things easy."- Dwight L. Moody
17. "A true friend is someone who thinks you're a good egg, even if you're cracked." — Unknown
18. "Let your light shine before others."- Matthew 5:16
19. "Where flowers bloom, so does hope."- Lady Bird Johnson
20. "There would be no Christmas if there was no Easter."- Gordon B. Hinckley
21. "Spring shows what God can do with a drab and dirty world."- Virgil A. Kraft
22. "The story of Easter is the story of God's wonderful window of divine surprise." — Carl Knudsen
23. "You can cut all the flowers but you cannot keep spring from coming."- Pablo Neruda
24. "The very first Easter taught us this: that life never ends and love never dies." – Kate McGahan
25. "The day the Lord created hope was probably the same day He created spring." – Bernard Williams